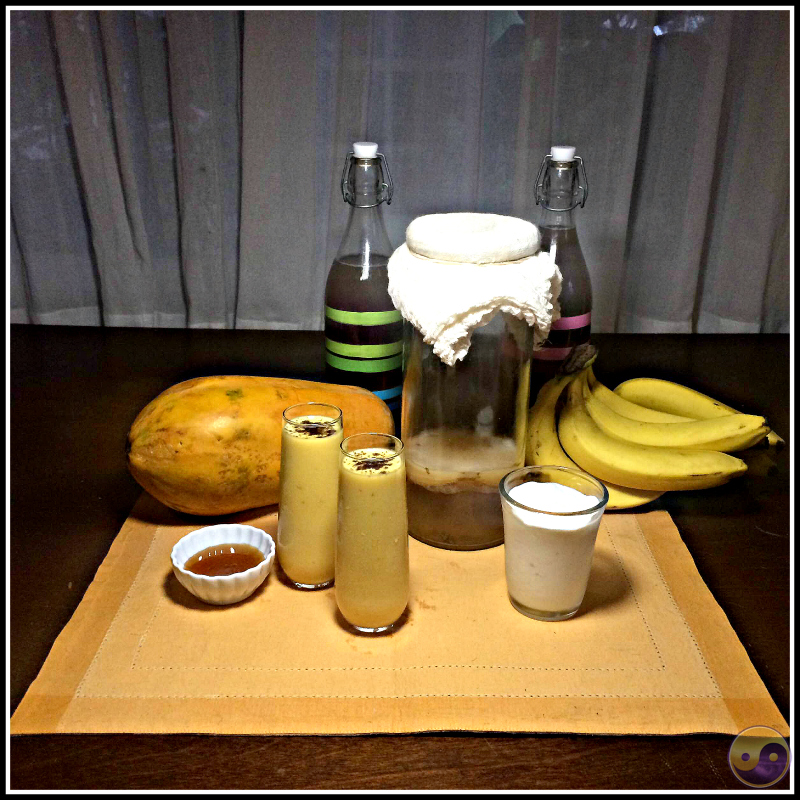 This nutritious mix is loaded with all the probiotic benefits of kombucha, goat yogurt, the digestive enzymes of papaya, and potassium and energy provided by banana.
Kombucha is well known for restoring the balance in the gut, where there is always an ongoing battle between good and bad bacteria, also since it contains black tea, it triggers a spark to activate your metabolism. Yogurt is also loaded with probiotics; I prefer goat yogurt is for its high content of protein and low content of fat. The Papain enzyme in the papaya breaks down the protein chain of amino acids for the fastest absorption of the yogurt protein. B6 in banana synthesize non-essential amino acids. All these factors work to make this smoothie easy to digest and keep the amount of energy used for digestion at a minimum level and keeping you active and on the go with a good dose of protein!
Blend:
1 banana
1 cup papaya
1 cup goat yogurt
1/2 cup kombucha
A hint of powdered vanilla bean
1 tablespoon of honey (optional)
Ice as desired
*Makes two portions… Sharing is caring!… Or for you to keep as an emergency snack stash.