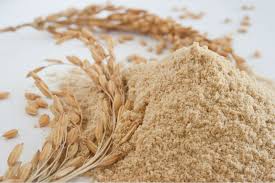 This nutritious thing we underestimate every time we choose white rice over brown rice. Here is why:
 It is very rich in dietary fiber, which is proven to prevent heart attacks, intestinal disorders, and various cancers.
Nutrient rich in bio-available vitamins such as vitamin E and B.
A natural source of phytosterols which contribute to healthy blood sugar levels, prostate health, and cholesterol metabolism.
High in magnesium.
Last but not least important: A whopping 60% of the rice nutrients are in the bran!