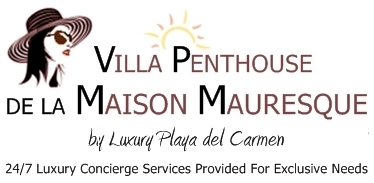 As it is possible to see at first glance, the luxury and comfort of this place makes it an ideal place to relax and enjoy a healthy lifestyle retreat and still take advantage of a centric location for you to explore the city on your free time. It could not be a better complement to the health retreat than staying in such a beautiful place with convenient access to everything that Playa del Carmen has to offer.

The spacious living room is perfect for an evening meditation, or also to take advantage of the natural light and enjoy a good book.
The space on the penthouse is ideal to enjoy a morning tea with the breeze of the sea that naturally flows in the air.

The comfort of the bedrooms are like a piece of heaven, with stylish illumination that inspire peace of mind.

Securely gated, even if Playa del Carmen is a very secure town, it is important that not one worry crosses your mind.

The decoration of the house has a few pieces of art around, like Picasso said: "The purpose of art is washing the dust of daily life off our souls."


When you feel like having a healthy snack breathing some fresh air there is this space for you to enjoy.

Spacious kitchen where the alchemy and magic of nutrition happens.

This is also an inspirational spot in the house for you to relax and do some writing about however you are feeling and program yourself to keep a good lifestyle and when you read back into this pages find the motivation to keep up.

Comfortable open-air beds in case you want to take a "siesta."

The way the furniture is accommodated in the living room gives you space to breathe freely not only physically but mentally as well.

The spectacular view from the penthouse is something you can not miss, with a luxurious big jacuzzi for you to unwind the stress.

This bedroom has the option for you to let the nature give you some fresh air, but also to let the light in and energize you in the morning.

This is another view of the amazing living room that is enchanted by a combination of minimalistic design and delights the eye with nature at the windows.

The amazing bedrooms are an inspiration for you mind and body to relax when the time to rest arrives.